NEJE F30130 laser engraver/cutter module kit - 5.5W output
Features

Designed for NEJE laser engraving machine, other laser cutting, 3D printer, Arduino, and CNC equipment.
3.3-12V TTL adjustable power.
Wide application, 3 input interface designs, DC12V+TTL, 3Pin 2.54 interface, 3pin connection port.
5.5W optical power output, can be directly upgraded on the basis of NEJE Master2 20W, if it is 7W and 3500mw customers need to replace the 12V3A power adapter.
Fixed focus design, you only need to pad a 6mm spacer on the bottom and lock the screw to adjust the focus.
30mm size, does not affect the engraving area of ​​NEJE Master2.
vision protection.
Modified laser air assist.
Intelligent drive, able to detect temperature and dynamically adjust the fan speed, making it quieter when not in use.
15000 rpm double ball high-speed fan, stronger heat dissipation performance
60mm built-in threaded copper core, add heat dissipation silicone grease, safe temperature control, NEJE 48-hour aging test.
2 years warranty, free replacement.

List

1 x laser module
1 x sliding card slot
1 x L wrench
1 x L-shaped small wrench
1 x interface adapter board
1 x 4pin laser line
1 x 3pin 2.54 interface output cable
1 x 2pin TTL control line
SKU:NEJE00109 NEJE00257 NEJE00258 NEJE00259 NEJE00260

NOTE:

 

From July 1, 2021, the EU will amend the relevant tax laws for products sold to EU member states. For products with a value of fewer than 150 Euros sent from China to EU countries, we will use IOSS for customs clearance. There is no need to pay taxes and fees during delivery, and customs clearance and delivery are faster. Orders sent from China to EU countries are worth more than 150 euros and are subject to import value-added tax and customs duties. This requires buyers to use their own VAT to clear customs and pay import VAT and customs duties. Shipments from EU countries are not subject to import VAT. This tax issue only applies to shipments from China to EU countries. For tax inquiries in other countries, please contact email: service@neje.shop
We ship to the address filled in your order. Please make sure your address is correct before payment.
The delivery time is affected by your destination, logistics, and other factors. If you have any questions about logistics, please contact us.
In order to give customers a better shopping experience, we need to test the products from the warehouse before shipping, and we need to wait for the logistics company to pick up the goods after packaging. It takes about 3-5 days to process the order. If you have any questions about the order, please contact us, please do not raise any disputes, thank you for your understanding.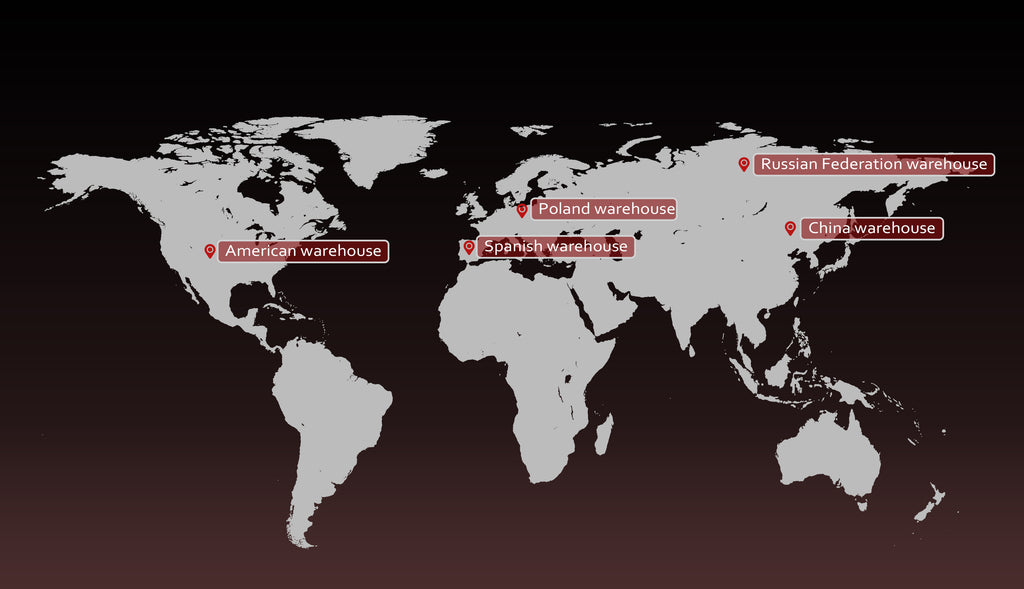 POLAND
Countries where this warehouse can ship: Czech Republic, Slovakia, Slovenia, Hungary, Croatia, Netherlands, Austria, Poland, Belgium, Estonia, Ireland, Lithuania, Denmark, France, Italy, Sweden, United Kingdom, Spain, Finland, Romania, Luxembourg, Greece, Monaco, Bulgaria, Latvia, Malta, Portugal, Cyprus, Germany
UNITED STATES
Countries where this warehouse can ship: United States
SPAIN
Countries where this warehouse can ship: Spain, Portugal, Germany, France, United Kingdom, Belgium, Italy, Netherlands
RUSSIA
Countries where this warehouse can ship:  Russian Federation
CHINA
Countries where this warehouse can ship: Brazil, Colombia, Pakistan, Saudi Arabia, Indonesia, Ireland, Denmark, Finland, Portugal, Switzerland, Greece, Italy, Bulgaria, Norway, Hungary, Czech Republic, Estonia, Belarus, Latvia, Lithuania, New Zealand, Kazakhstan, Romania, Slovenia, United Arab Emirates, Albania, Georgia, Nigeria, Germany, Ukraine, Israel, Turkey, Mexico, United States, Spain, France, Russia, Poland, Singapore, Japan, South Korea, Malaysia, Thailand, Canada, Australia, Netherlands, Austria, Sweden, Belgium, United Kingdom

We will provide each customer with the best service and reliable products, but sometimes there are unexpected or doubtful places. We believe that good communication can solve every problem happily, so please give up the order or leave a negative Contact us before giving feedback to resolve any issues.
please contact: service@neje.shop
---
We Also Recommend