---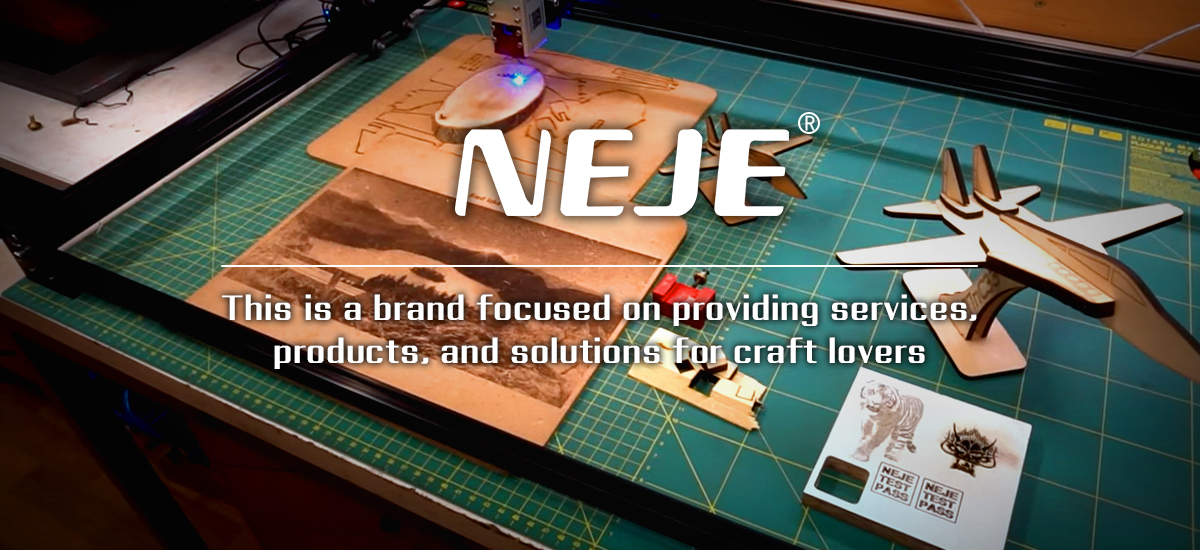 MORE APPLICABLE MATERIALS FOR MORE DIY ENJOYMENT
NEJE laser applies more materials and completes more precise processes. It always bring more surprise effects in creation!
The above pictures are provided by NEJE customers. The effects of glass, transparent acrylic, stainless steel, and ceramics need to be combined with other processes to achieve.
NEJE MAX
More Power, Smoother, Faster and convenient desktop laser engraver / cutter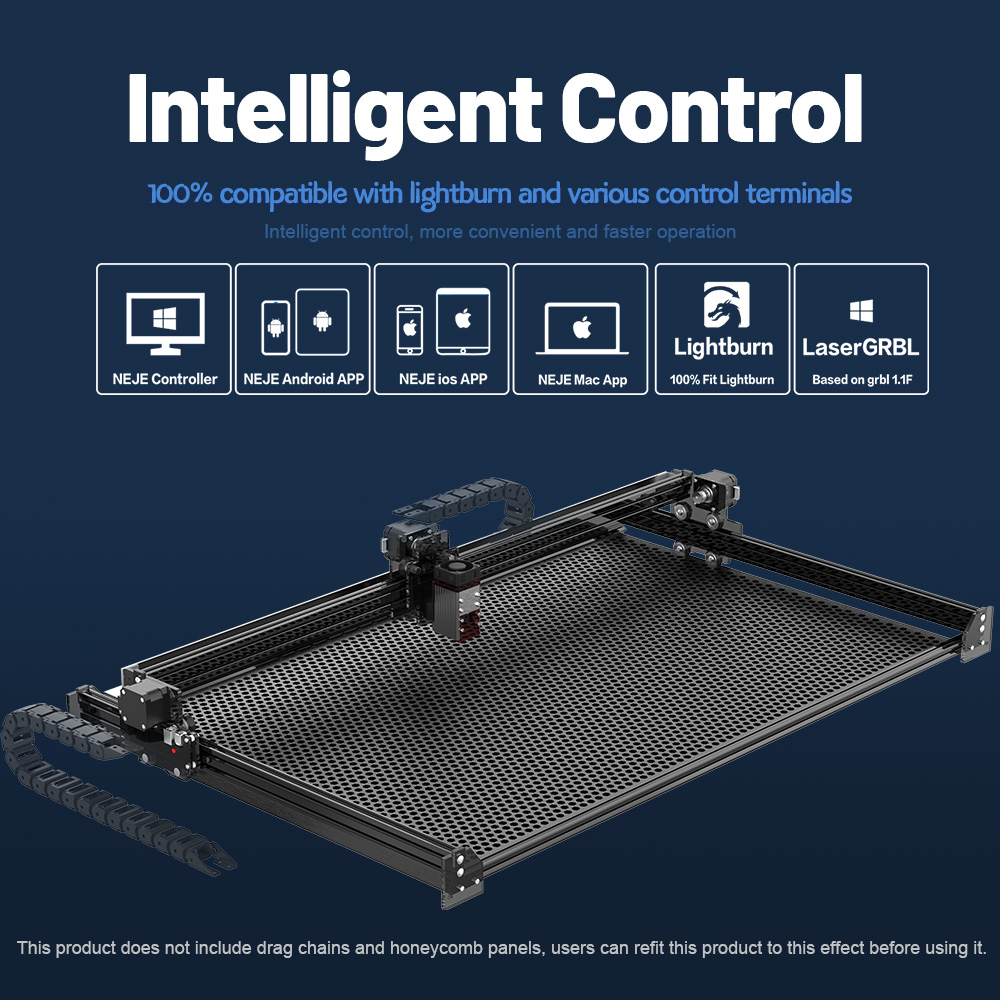 Easy installation , It only needs to install 6 screws to complete the assembly.
Convenient, Support APP wireless engraving, And 100% adapt to lightburn and LaserGRBL software.
Large area, 810x460mm working area.
Advanced and intelligent NEJE series modules,
THE A40640 40W fiber 2 x Laser diode module with FAC tech is the most powerful desktop laser cutting module, The optical power reaches 13-15W and the cutting ability has been solved by professional CO2 laser cutting machine.
More Smoother and faster,New 32-bit processor and 3 motor drives, the speed is 50% higher than stm32, can withstand heavier X-axis.
Safty Control, Built-in MEMS, roll protection.
Accuracy and Reliability, Point distance is 0.075mm. The composite sheet structure processed by CNC with high precision has better accuracy and reliability than laser-cut acrylic and stamped steel plates.
Advanced laser technology
8mm plywood: It cuts 8 mm plywood at a speed of 120mm / min in one pass
Mirror stainless steel: Direct engraving at a speed of 200mm / min
3mm black plexyglass: It cuts 3mm black plexyglass at a speed of 150mm / min in 1pass

---
NEJE modules provide more processes
NEJE provides a series of modules, including the high absorption efficiency 405nm B30635 module, and the lighter weight N30630 module to improve the engraving efficiency. It is also suitable for engraving and cutting the classic N30820, N30820 and N40630 modules. The F30130 fixed focal length is convenient for adding air-assisted cutting. A30830 and A40630 modules with a square spot to enhance the focusing effect, and A40640 modules with a powerful 2x beam; These modules are suitable for NEJE 2s, plus, mix, max machines and other brand 3d printer, cnc router, laser machines;
| | | |
| --- | --- | --- |
| | | |
| B30635 | N30610 | N30820 |
| | | |
| F30130 | A30130 | N40620 |
| | | |
| N40630 | A40630 | A40640 |
---
Machine Recommendations
Whether you're an small business, school, or hobbyist, we have the laser machine to meet your needs. From laser engraving names plates to directional signs to awards, our laser machines are designed to do it all. Take a look at our
full product line.
---
advanced Control System
Pixel-level restoration design
More Clearly See the Small Details, The pixel accuracy of NEJE Machine can be adjusted freely(the default is 338 pixels per inch, about 0.75um of pixel accuracy)to ensure the image quality is delicate and accurate. More advanced is that you can use bmp design software to design each point to the pixel level, and restore it to the surface of the material 1:1 through NEJE positioning accuracy of 0.075mm.
Multi-layer control in one step
The advanced complex processing technology completes the engraving and cutting multi-layer process at one time through the layer setting, and 100% of the lightburn adaptation is completed, and the performance of the control system is even higher than the actual ability of the lightburn software.
Cloud support & Offline control
A new idea can be opened in just 10 seconds without the computer. Store frequently used files directly in the mobile phone, mobile APP file management and constantly updated NEJE cloud picture service, provide more creative inspiration and content materials.
More creative possibilities
you can draw with a pen to take pictures and transmit engraving, take pictures and print directly, and engrave directly through Bluetooth or NEJE cloud transmission.
better 32-bit Control Board
More faster - NEW 32-bit MCU 50% higher than STM32. The G-code instruction speed is faster, and the theoretical carving speed is faster.
More smoother - New motor driver. High-performance motor drive, motor acceleration is smoother and quieter.
More Safty - MEMS chips, When the machine accidentally touches and causes the position to change, the machine automatically stops working to prevent laser damage.
More convenient - Built-in wireless connection chip, open the APP to automatically find the machine and automatically connect.

---
More solutions
NEJE machines have reserved space for modification when designing. Many customers will add a protective box to the machine or add air-assisted equipment after purchasing the machine. The NEJE team has reserved it when designing the product. Many interfaces make the extended functions work perfectly together to meet customer expectations. NEJE module kit is also compatible with almost all 3D printers and cnc lasers on the market, such as: ender 2, ender 3, outur laser. If you have a wood router cnc device, you can also install a NEJE laser module to enhance your device.
---
---
About US
a.NEJE has independent research and development of the most advanced laser technology process and control system technology advantages
b. Reliable product design and strict quality control capabilities
c. Trustworthy service
1. Warehouse service capabilities all over the world
2. Online software service capability for immediate updates and upgrades, NEJE WIKI Service
3. Technical customer service, NEJE's technical team will always provide you with professional help and resolve service commitments;