NEJE Max 4 : DIY Industrial 4-Axis Diode Laser Engraver & Cutter
Delivery Time
NEJE Max 4 E80
Ships From Europe : 50 days
Ships From United States : 50 days
Ships From China : in stock
NEJE Max 4 E40
Ships From Europe : in stock(3-7 days)
Ships From United States : 50 days
Ships From China : in stock
NEJE Max 4 A40640
Ships From Europe : in stock(3-7 days)
Ships From United States : in stock(5-10 days)
Ships From China : in stock
NEJE Max 4 Famer+Drawing Pen
Ships From Europe : 50 days
Ships From United States : 50 days
Ships From China : in stock
---
FEATURE
Hybrid compression technology makes the focal point of NEJE E80 0.1x0.1mm, and the power density reaches 2400W/mm², Compared with 40W module,power density:1777W/mm² (0.15x0.15mm,8xLD,Current highest power) , the performance of E80 is 35% higher than the 40W module. Due to the extremely strong power density and optical design, NEJE E80 has more excellent performance when the power is halved. Compared with other 20W modules, NEJE E80 has great advantages in terms of lifespan and performance.
750 (X) * 460 (Y) * 45 (Z) mm working area, Y-axis track can be extended to 1030mm, in 3-dimensional space, it can support simultaneous processing of various items with different thicknesses. Compared with the ordinary 400x400mm frame, the work efficiency increases by 400%
The problem of high power module fire has been solved revolutionary. Through the Z-axis layer-by-layer cutting mode and E80's unique optical cutter design, it can safely cut 17mm pine wood without fire even without air assist
The cutting efficiency is increased by 200%, which is higher than that of 40W (optical power) module The perfect optical design of NEJE E80 makes the E80 focus power density and beam angle reach a perfect state by optimizing the beam structure and adopting more complex manufacturing technology.When the power 1 time smaller than the 40W module, it can even reach the same cutting speed, and the notch is smaller, avoiding the trapezoidal and XY asymmetry problems.
You can transmit Lightburn working files and control the device wirelessly.NEJE uses the combination of built-in virtual instruction mode and Bluetooth technology to transmit and control professional multi-layer gc files wirelessly through NEJE. NEJE retains the "One Key Start" function, eliminates the backward sd card mode, and allows the device to work without occupying your computer.
The drawing pen is included in the package. It can draw images, which can let children and beginners experience the fun of CNC. It can also draw paths with the drawing pen, and preprocess advertising materials that cannot be processed by laser wavelength.
The processing speed is 24000 mm/min,it's faster than 400 mm frame's peak speed. The combination of Max 4 and NEJE high-performance module makes the efficiency reach an excellent state.
The repeated positioning accuracy of Y and Z axes reaches 0.001mm, XYZ axis includes automatic reset, and the repeated positioning accuracy after reset can also reach 0.01-0.001mm. The X axis adopts industrial linear track, and the Y axis adopts NEJE special design diamond tool to cut linear track, which has a longer lifespan and precision.
The new Max 4 machine has industrial-grade structural accuracy. All parts are calibrated by high-precision industrial master machine, linear track correction, and the installation direction of each plane is precisely matched, making the operation of the module more accurate and stable.
The machine has anti-jitter design, so there is no ripple in such a large area of lightweight equipment. NEJE can effectively eliminate the jitter of precision drawing by customizing alloy materials with different hardness and matching reasonable shock absorption design.
The new built-in anti-static design will make the equipment more stable and reliable
It is compatible with all 12V and 24V modules of NEJE (only E80 is 24V module at present) to realize the application of different materials and different process requirements
---
SPECIFICATION

NEJE-Max-4
Frame Size (L – W – H): 970x582x60mm
Working Area( X – Y): 750 x 460mm, Extends to 750x1030mm
X axis:Industrial straight track, bottom CNC straight line correction
Y axis:NEJE diamond CNC linear track, smooth and durable
Z axis:Industrial linear track
A axis:Rotary axis expansion
Y axis Extension: Yes, NEJE will provide linear extension track, and the Y axis can be extended to 1030mm.
Limit Switch: Build in X Y Z
Homing Repeat Position Accuracy: 0.01mm
Repeat Position Accuracy: X Y: 0.01mm; Z: 0.001mm
Recommended acceleration and top speed: 400mm/s (NEJE Max 4 has a longer acceleration stroke, and the peak speed is faster than the ordinary 400x400mm frame.)
Vertical Carving: Yes(90°)
Input Voltage: 12V or 24V, Match according to module voltage
M7,M8,Door Extension: Yes

GRBL Offline Control: Yes
App control: Yes
MEMS: Yes
NEJE Software OTA Upgrade: Yes
Software: NEJE Win Soft, NEJE APP, Lightburn, LaserGRBL
Fiware: build in NEJE fireware and GRBL 1.1f(optimized)
Systems Support: Win 7/Win 8/Win 10, Android, iOS, ipadOS, macOS
File Format Supports: GC/SVG/DXF/JPG/JPEG/PNG/BMP/TIF/etc.
NEJE E80

Optical Power: Pulse 24W, CW 21W
Focus Size: 0.1×0.1mm 
Input: 24V 5A
Interface: 4pin PH2.0 + ( 2pin DC 24V extra power)
Weight: 600g
Number of Diodes: 4
PWM Input: VPP(3.3-24V), Recomend 1KHz,
Quiet Design: Drive the built-in control ic, judge the working state and adjust the fan work
Adapter Pluga: 5.5 2.1 port
Working Voltage: DC 24V
TTL&PWM Modulation: YES. Compatible with Both TTL & PWM Modulation
Input Interface: PH2.0-4Pin (+,-, PWM/TTL, Temperature), 3Pin (+,-, PWM/TTL) , 2Pin+2Pin (+,-) + (PWM/TTL,-)
Warranty: 2 Years
---


---
live video
---
SHIPMENT & TAX DETAILS

EUROPE Warehouse Ship To: Germany, France, Italy, Spain, Czech Republic, Slovakia, Slovenia, Hungary, Croatia, Netherlands, Austria, Poland, Belgium, Estonia, Lithuania, Denmark, Sweden, Finland, Romania, Luxembourg, Greece, Monaco, Bulgaria, Latvia, Malta, Portugal, Cyprus, Turkey, Ireland. 
The delivery price of europe warehouse includes Tax and VAT.
China Warehouse Ship To: America, United Kingdom, Canada(Average 10-15days), Australia(Average 10-15days), New Zealand(Average 15-20days), Singapore, Malaysia, Korea, Japan, Thailand, Philippines, Vietnam, Indonesia, Mexico, Israel, Turkey, Serbia, Brazil, Saudi Arabia, Chile, Ukraine, Kazakhstan, Belarus, Colombia, United Arab Emirates, Pakistan, Lebanon, Sri Lanka, South Africa, EU countries.
Orders sent from China to EU countries are worth more than 150 euros and are subject to import value-added tax and customs duties. This requires buyers to use their own VAT to clear customs and pay import VAT and customs duties. Shipments from EU countries are not subject to import VAT. This tax issue only applies to shipments from China to EU countries. For tax inquiries in other countries, please contact email: service@neje.shop or online service. For products with a value of fewer than 150 Euros sent from China to EU countries, we will use IOSS for customs clearance. There is no need to pay taxes and fees during delivery, and customs clearance and delivery are faster. 
United states, Canada, Australia and UK warehouses (Tax included) can only ship to locally.
---
SHIPPING STATEMENT

1. We ship to the address filled in your order. Please make sure your address is correct before payment.
We do not assume the risk of loss or damage to the package arising from the rejection.

2. The delivery time is affected by your destination, logistics, and other factors. If you have any questions about logistics, please contact us.
3. In order to give customers a better shopping experience, we need to test the products from the warehouse before shipping, and we need to wait for the logistics company to pick up the goods after packaging. It takes about 3-5 days to process the order. If you have any questions about the order, please contact us immediately at
service@neje.shop
, please do not raise any disputes, thank you for your understanding.
4.After shipping, you will receive a shipping email with the tracking number. Normally you can track your package at:
https://www.17track.net
---
ABOUT NEJE®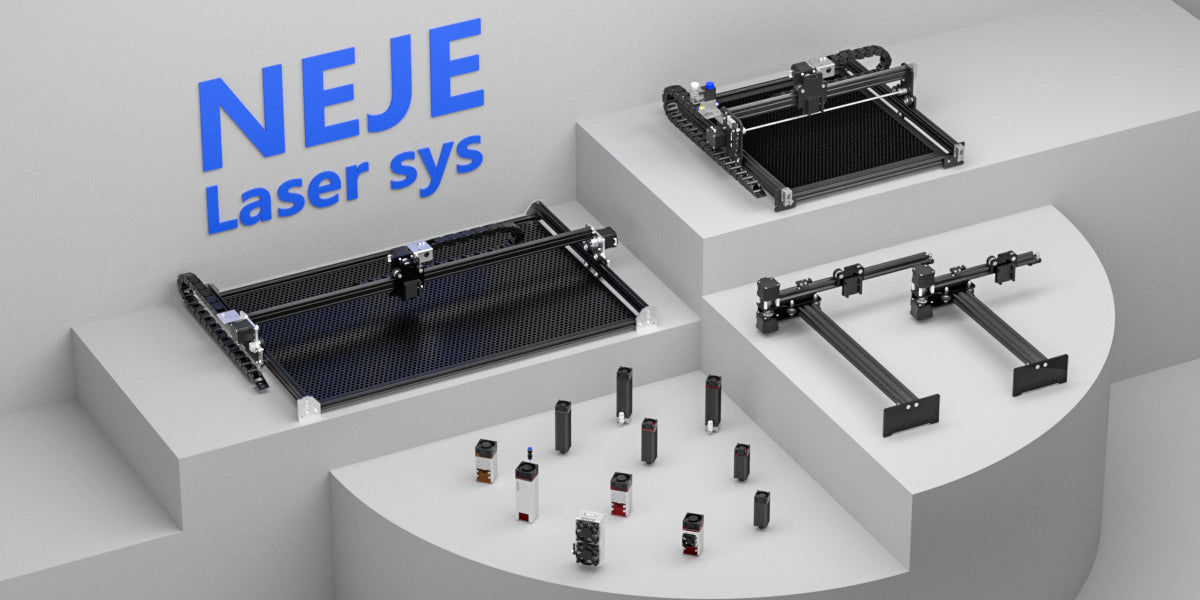 This is a brand focused on providing laser tools, services, products and solutions.
Since 2013,We have served over 1 million users in the world with fivestars customer feedback. The best-selling in our industry all over the world. The only laser module that has been fully developed and manufactured independently. The engineering team at mechanical and software APP provides the most advanced experience in laser process technology and excellent sofware.
FAST DELIVERY AND ONLINE SERVICE
a. NEJE has set up warehouses in Germany, the United States, China, United Kingdom, Canada, Australia, Brazil, etc., to serve users more quickly.
b. You can find the following information at 
NEJE WIKI Service
: Software Download | Installation Guide | Air Assist Guide | Software Instructions | Firmware Update Guide | Focus Guide | Laser & Material database | Maintenance Guide | Safety attention.
c. Join 
NEJE Group
 and learn more about laser knowledge of handling various materials.
d. For product operation questions, please log in: 
NEJE Document Service
e. If you need to submit product after-sales questions, please log in to the 
NEJE Forum Service
 ( The NEJE forum will have NEJE staff and engineers to help you solve your problems.
f. If you have product and service suggestions, product shipping problems, wholesale, business cooperation, please contact
NEJE online service
.
---
We Also Recommend