NEJE Master 2S max 460 x 810 mm professional laser engraving machine, laser cutter - lightburn - bluetooth - app control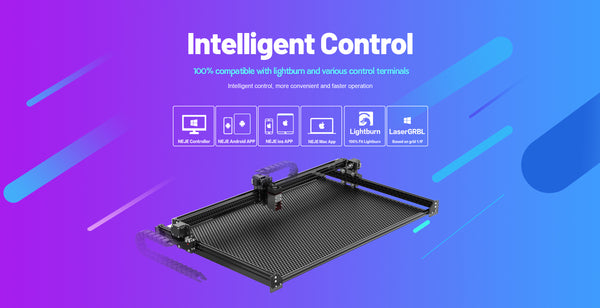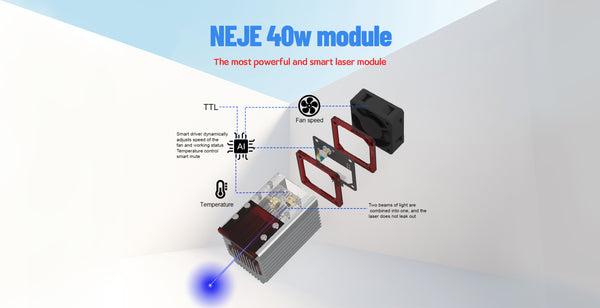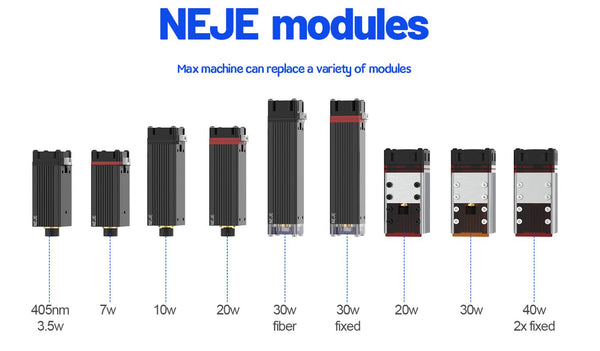 Features
2s seriesmotherboard will update the GRBL 1.1f of ATMEL chip to brand new GD32 MCU.Which has improved 50% performance compare with STM32 chip.

- It supports more than 10 different function modules, the NEJE modulehas excellent optical design and reliable work performance, which is the bestand the most guaranteed service currently. NEJE series module provides 2 yearsfree warranty.

-Specialized Motherboard with GD32 MCU

- It could preprocess 32 instructions, support baud rate as high as 2,000,000,compared to STM32 desktop laser engravers, which only has 921,600, morepowerful!

- Engraving speed could be as high as 42,000 millimeters/Min. ( If donot consider the laser carving result, the velocity of movement could be ashigh as 1200millimeters/Sec. ); compared to stm32 desktop laser engravers,which only has 3000 millimeters/Min, more powerful!

-The Most Advanced 32Bits Laser Engraver Firmware NEJE laser masterfirmware, smarter, faster, higher precision and easier to use. NEJE alsoprovides firmware upgrade services

-Laser power range could be S0 - S1000, NEJE Laser Master couldcontrol laser beam more accurately, could even use the high power laser unit to"draw" a picture on paper, to match with NEJE series module canachieve the more accurate effect.

-Active Position Protection
There is aG-sensor on the motherboard, if the machine detects unauthorized movement, thelaser beam will stop.

-Laser Beam Safety Guard
If your computersystem halted or a USB cable disconnected, led to that the laser engraver stopsmoving, the laser beam will stop, to prevent fire.

-Exposure Duration Detection and Limitation
If laserengraver is under control, but users forget to operate and keep the laser beamworking, extra safety will cut off in case the motor stopped moving, to preventfire.

-NEJE software ( free software ) supports windows 7, 8, 10. Mac OS.NEJE APP including android, iOS macOS, NEJE team develops it which is forbeginner, it can provide high precision carving and CNC creation's software,the operating procedures are automatic and simple, safe use. Especially thecurrent engraving software, NEJE team keeps upgrade and optimization, alsoprovides free upgrade services, you can get free upgrade services in wiki.nejetool.com


-Laser GRBL ( free software ) supports Windows XP, 7, 8, 10. LaserGRBL is the most popular carving software in the world, could import differentformat images, you could editing in PhotoShop, Inkscape, CAD, etc. and thenconnect to the engraver via laser Laser GRBL for engraving and cutting.

-LightBurn ( paid software, lightburnsoftware.com ) supports Windows,Mac OS, and Linux. It's the most popular paid carving software in the world,very easy to use.

-NEJE module supports PWM control and temperature sensing, the modulecan adjust the focus by up and down, it also supports zoom module's and focusesmodule's installing.

-Pre-assembled parts, it just has to install 6 screws, need 1 minuteto install the machine.

- NEJE master 2s max's y-axis includes 2 motor-driven, which hasstronger power.

- 810 x 460 mm large engraving area. The widest space is less than 600millimeters, it just able to place a whole home-used table.

-Aluminum profile frame + structured cabling, solid structure, smoothoperation, attractive appearance, NEJE structure is different from otheracrylic main structure, NEJE machine is using high-strength composite mostly.It also uses CNC art craft, to make sure pulley and aluminum material withoutany gap. Besides, it won't deformation for a long time, which means it isrobust and reliable.

The product has passed the quality control of NEJE factory and has a free 2-year warranty!


List

Laser engraving machine 1,
4060 module 1,
12V3A power supply 1,
European standard adapter 1,
Manual 1,
Red glasses 1,
(Data cable 1, wooden board 1, paper 5, pen 1, brush 1, focusing film 1, angle iron 4, alumina film 1, cable tie 3, nut 5, large hexagon wrench 1, small hexagon wrench 1, Open wrench 1)

1.Lasers are sensitive electronic components that may be damaged by interference from external factors, although all NEJE lasers are produced with electrostatic surge protection and aging resistance.
2.Laser head provides 2 year warranty (after receiving the product).
3.Motherboard warranty for 2 year.
4. Machinery including motor assembly, 2 year warranty.
5.According to the video basis you provide, global free-shipping for after-sales!

1. We ship to the address filled in your order. Please make sure your address is correct before payment.
2. The delivery time is affected by your destination, logistics and other factors. If you have any questions about logistics, please contact us.
3. In order to give customers a better shopping experience, we need to test the products from the warehouse before shipping, and we need to wait for the logistics company to pick up the goods after packaging. It takes about 3-5 days to process the order. If you have any questions about the order, please contact us, please do not raise any disputes, thank you for your understanding.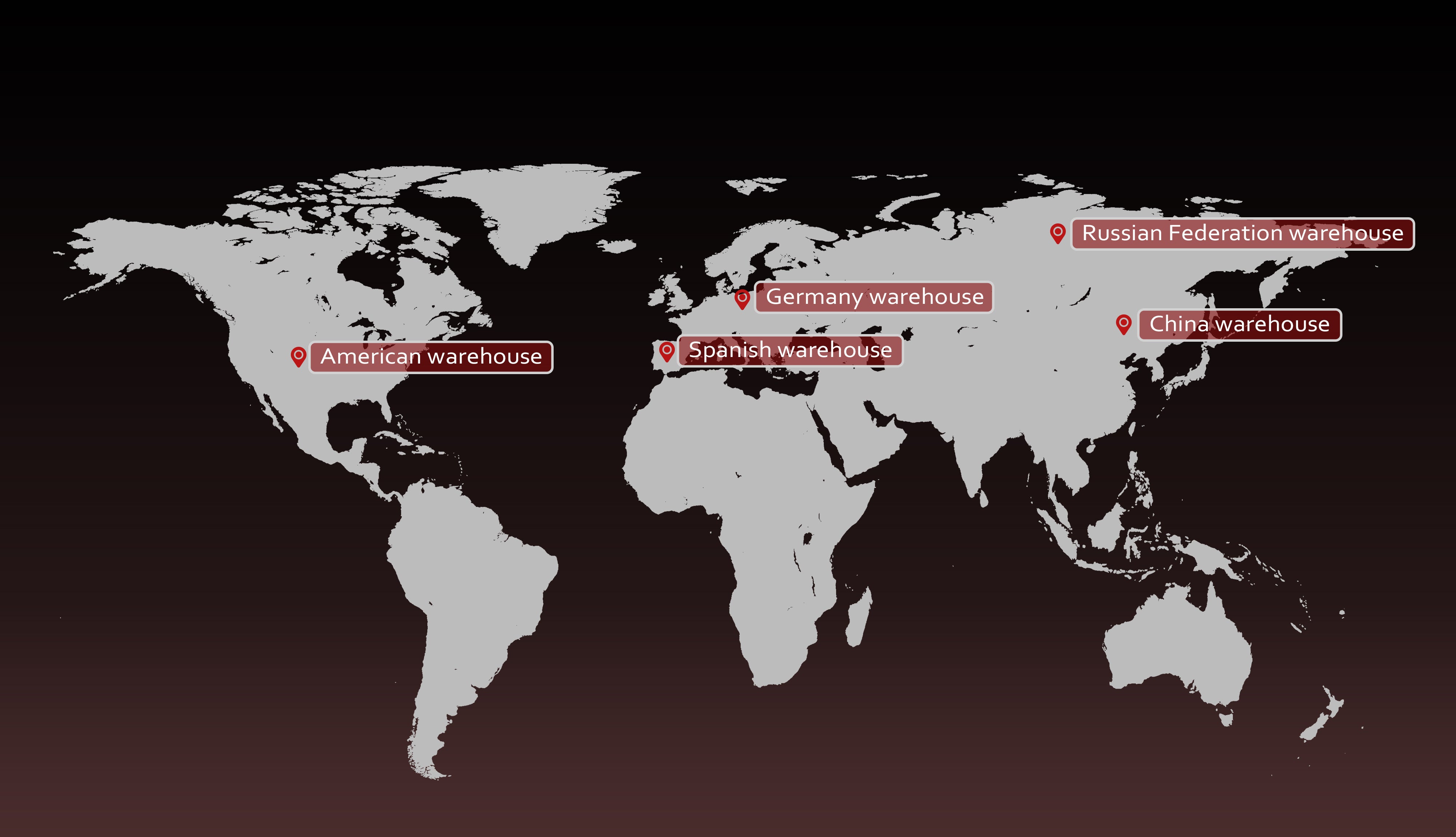 Germany
Countries where this warehouse can ship : Czech Republic, Slovakia, Slovenia, Hungary, Croatia, Netherlands, Austria, Poland, Belgium, Estonia, Ireland, Lithuania, Denmark, France, Italy, Sweden, United Kingdom, Spain, Finland, Romania, Luxembourg, Greece , Monaco, Bulgaria, Latvia, Malta, Portugal, Cyprus, Germany,Turkey
UNITED STATES
Countries where this warehouse can ship : United States
SPAIN
Countries where this warehouse can ship : Spain, Portugal
RUSSIA
Countries where this warehouse can ship :  Russian Federation

We will provide each customer with the best service and reliable products, but sometimes there are unexpected or doubtful places. We believe that good communication can solve every problem happily, so please give up the order or leave a negative Contact us before giving feedback to resolve any issues.
please contact: service@neje.shop


We are always welcome wholesale and drop shipping 
1. Remove our logo and ad from parcel
2. Remove receipt
3. Support CSV/EXCEL srrvice
We can provide you with satisfactory logistics service, Please don't worry the stock , We Have our own factory, one day,We have professional teams. and we have great interest in developing business with you, should you have any inquiries or comments,we would be glad to talk in details. 
Business cooperation email: service@neje.shop
---
We Also Recommend