NEJE Master 2S Laser Engraver & Cutter with N30820 laser module - 170 x 170mm - APP control - bluetooth - grbl 1.1f - lightburn - roll protection - Free shipping worldwide
Feature
-[170 x 170 mm] Moderate use area, and under the protection of MEMS vibration protection sensor, the engraving and cutting processes can be completed at the same time. 2266 x 2266 pixels, engraving accuracy: 0.075 mm dot pitch, 339 dots/inch. The whole machine function test requires only 4 screws to complete the installation.
-[Advanced Laser Module] NEJE's classic multifunctional module, which weighs only 202g, can obtain high power and fast scanning performance. The minimum focus point reaches 0.05x0.05mm (N30820 module), can engrave metal, and can cut materials less than 8mm, built-in fast intelligent drive, temperature feedback can be timely, intelligently adjust the fan to reduce noise Safe and quiet to use.
-[More materials, clearer] Wood, MDF, leather, paper, cotton, etc. are all supported. 3mm plywood only needs air-assisted cutting once, and the cutting is very clean. Cover spraying can engrave stainless steel, glass, transparent acrylic and so on.
-[Portable professional control software] 32-bit control system, the fastest speed reaches 250,000mm/min, supports LaserGRBL, Lightburn, NEJE software, NEJE APP (Android, iOS, ipadOS, macOS), NEJE provides free software upgrade services.
-[Perfect after-sales service] The whole machine is guaranteed for free for 2 years (laser module: 2 years and 20,000 hours warranty), and vulnerable parts are shipped worldwide within 24 hours.
General Specification
Optical Power: 450nm 5.5W 
Control Board: 2 x MCU + Wireless control + MEMS 
Working Size: 170 x 170 mm 
Software: NEJE APP for Android, NEJE Wireless APP for iOS / macOS, NEJE software for windows, LaserGRBL,LightBurn Software with firmware GRBL1.1f.
LightBurn ( paid software from the official website of Lightburn.) supports Windows, Mac OS, and Linux.
NEJE Software Upgrading Service: YES 
NEJE Scanner function: YES 
Frame material: CNC Cutting Composite plate, aluminum alloy, acrylic. Can Engrave: MDF/Balsa/Paper/Wood/Fabric/Plastic/Leather/Plywood/Foam Paper/Anodized Aluminum 
Can Not Engrave: Metal/Glass/Stone/Ceramics/PCB/Stainless Steel/Reflective Material/ Transparent Material 
Continue working: Unlimited 
Beam Shape: Dot (Focusable) 
Heatsink Material: Aircraft Aluminum + Brass Shell Luminous
Input Voltage: AC100-240V, 50/60Hz 
Output Voltage: DC12V, 3A 
Image Format: .bmp \ .jpg \ .png \ .nc \ .dxf \ etc.. 
Plug Type: EU / US (Optional)
Features
【More Convenient】Off-line and APP Wireless Control. NEJE Scanner Wireless Transfer. Cloud Gallery and Online Gcode Make Creation Easier. 

【Professional CNC software】Benbox , LaserGRBL. 170 x 170 mm Engraving Range. Operating System: Windows 7/10 / Android / iOS / macOS. Picture format: BMP / PNG / JPG / NC / DXF,etc." 

【Safe To Use】Built-in MEMS sensor protection, when accidentally touched, the machine will automatically stop working. 

【Carved Material】It can carve MDF, balsa, paper, wood, fabric, plastic, leather, plywood, foam paper, anodized aluminum, etc.(Not suitable for iron or other metal)" 

【NEJE Service】We provided 2 years warranty and full life customer service. If you have any questions about this engraving machine, please contact us, we will reply to you in 24 hours.
Note(Please pay attention)
Please wear laser goggles during usage and avoid touching the laser directly with your eyes and skin!

Do not engrave mirror objects,Pay attention to fire,Pay attention to pets when working!

Smoke will be generated when burned, please pay attention to smoke exhaust indoors.

The warranty period of the laser module is one year. If you have any quality problems (Except individual situations like using the laser module more than 30 minutes per time and cause damage ), please feel free to ask our customer service for help.

If your laser module has any problem, please DO NOT dismantle it without our permission. It will destroy the laser module.

If you have any quality problem with the machine, please feel free to contact us. Many operative problems can be solved according to your video and problem description. Thank you in advance.
Package Included
1 x Master 2 Laser Engraving Machine

1 x Laser Module

4 x Nuts

1 x goggle

1 x L-shaped wrench

1 x USB Cable

1 x Small wrench

1 x 12V2A Power Adapter

1 x Eu adapter

1 x Small Wooden block

1 x Test Paper
SKU:NEJE00001 NEJE00002 NEJE00003 NEJE00111

1.Lasers are sensitive electronic components that may be damaged by interference from external factors, although all NEJE lasers are produced with electrostatic surge protection and aging resistance.
2.Laser head provides a 2-year warranty (after receiving the product).
3.Motherboard warranty for 2 years.
4. Machinery including motor assembly, 2-year warranty.
5.According to the video basis you provide, global free shipping for after-sales!

NOTE:

 

From July 1, 2021, the EU will amend the relevant tax laws for products sold to EU member states. For products with a value of fewer than 150 Euros sent from China to EU countries, we will use IOSS for customs clearance. There is no need to pay taxes and fees during delivery, and customs clearance and delivery are faster. Orders sent from China to EU countries are worth more than 150 euros and are subject to import value-added tax and customs duties. This requires buyers to use their own VAT to clear customs and pay import VAT and customs duties. Shipments from EU countries are not subject to import VAT. This tax issue only applies to shipments from China to EU countries. For tax inquiries in other countries, please contact email: service@neje.shop
We ship to the address filled in your order. Please make sure your address is correct before payment.
The delivery time is affected by your destination, logistics, and other factors. If you have any questions about logistics, please contact us.
In order to give customers a better shopping experience, we need to test the products from the warehouse before shipping, and we need to wait for the logistics company to pick up the goods after packaging. It takes about 3-5 days to process the order. If you have any questions about the order, please contact us, please do not raise any disputes, thank you for your understanding.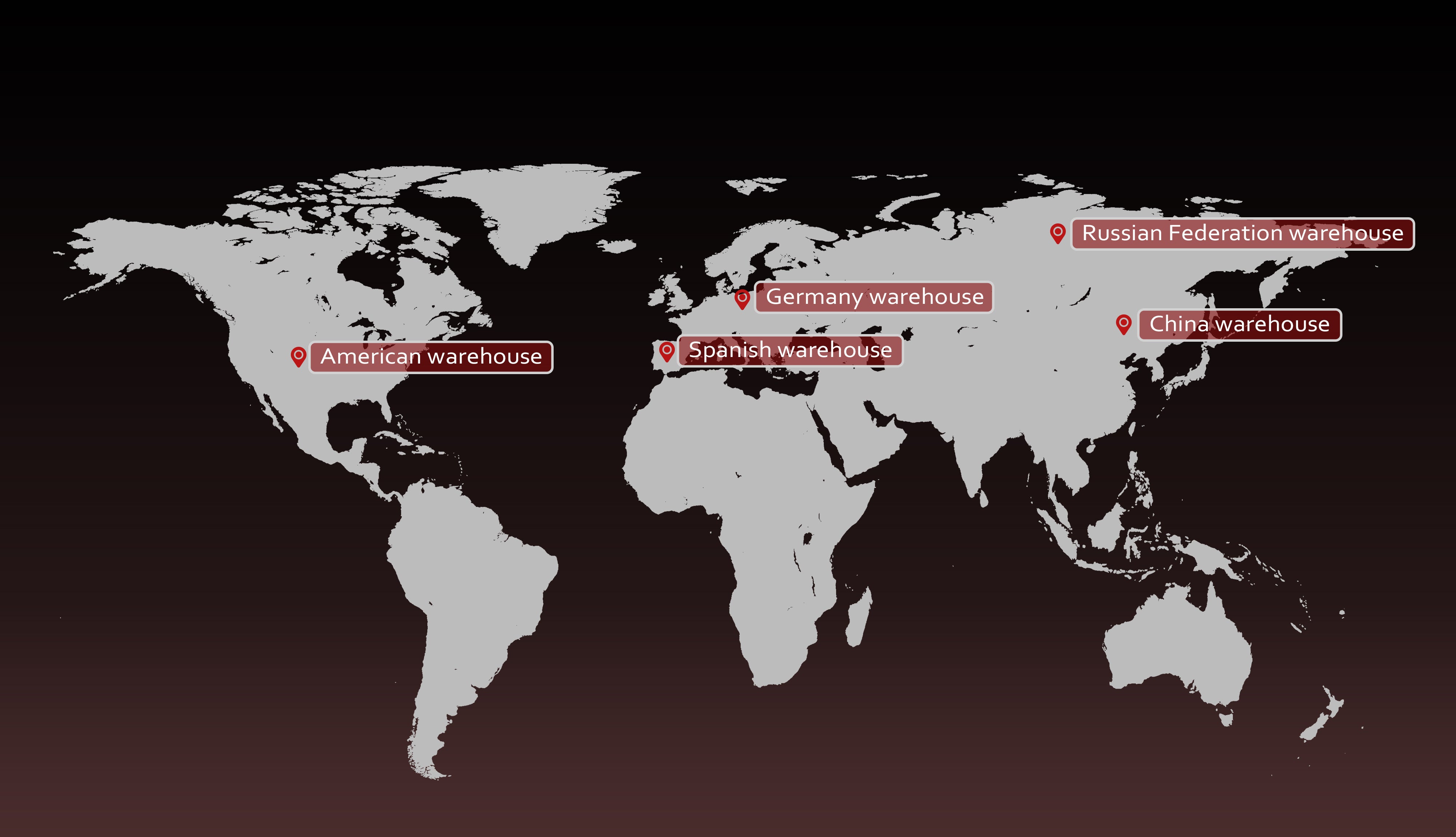 GERMANY
Countries where this warehouse can ship: Czech Republic, Slovakia, Slovenia, Hungary, Croatia, Netherlands, Austria, Poland, Belgium, Estonia, Ireland, Lithuania, Denmark, France, Italy, Sweden, United Kingdom, Spain, Finland, Romania, Luxembourg, Greece, Monaco, Bulgaria, Latvia, Malta, Portugal, Cyprus, Germany,Turkey
UNITED STATES
Countries where this warehouse can ship: United States
SPAIN
Countries where this warehouse can ship: Spain, Portugal, Germany, France, Belgium, Italy, Netherlands
RUSSIA
Countries where this warehouse can ship:  Russian Federation
Where can we deliver the package to?
We can ship to most countries in the world.
Countries not shipped to include: South Sudan, Palestine.
Click the button on the website of each product then you can see if this product can be delivered to that destination country.
Our goal is to offer you the best shipping options, no matter where you live. We deliver to hundreds of customers across the world every day, and we strive to provide you with services of the highest level.
What shipping methods are offered, and what are the respective shipping times?
We have 4 different shipping methods: unregistered, registered, priority line and expedited shipping.
In addition, the standard shipping can reach the majority of countries, while the priority line can reach most of the main countries, below are the estimated shipping times (Hong Kong and our Warehouses).
China Warehouse:
Shipping Type
Country or Region
Arrive within 1-7 Days
Arrive within 8-15 Days
Arrive within 16-30 Days
Arrive within 31-45 Days
Average Time (Days)
Unregistered Air Mail or Registered Air Mail
United States
0.52%
44.87%
49.88%
3.5%
18.13
Spain, United Kingdom, Italy, Germany, France & Portugal
5.18%
43.44%
48.34%
1.17%
15
Netherlands, Greece, Poland, Hungary, Slovakia, Czech Republic
2.96%
40.34%
52.54%
3.74%
18.66
Russia
0%
4.45%
84.41%
11.1%
28
Japan, Korea
0%
21.30%
68.80%
9.66%
17.75
Brazil
0%
0%
23.91%
72.09%
38.6
Turkey
0.06%
37.75%
59.05%
3.1%
20.33
Thailand, Singapore & Malaysia
0%
40.39%
56.12%
2.6%
16.2
Other countries
0.7%
38.79%
47.94%
8.56%
23.57
Priority Line
United States
12.28%
79.05%
7.4%
0.52%
11.75
Spain, United Kingdom, Italy, Germany, France & Portugal
8.44%
66.56%
23.45%
0.45%
13.55
Russia
0%
3.48%
75.79%
20.04%
31
Brazil
2.21%
6%
61.29%
25.46%
30
Turkey
20.42%
77%
3%
0.08%
10
Australia
7.67%
86.60%
5.68%
0%
11
Korea
97.54%
1.57%
0.89%
0%
7
Japan
95.80%
2.09%
0%
0%
6.84
Thailand, Singapore & Malaysia
58.96%
41.04%
0%
0%
8.45
Other countries
22.33%
30.8%
27.62%
17.64%
18.65
Expedited Shipping
ALL countries(EMS)
3.8%
46.8%
26%
15%
14.8
ALL countries(DHL)
65.8%
25.75%
3.86%
0.37%
6.72

PL Warehouse:

 

Typically 3-5 days to the DE, 3-7 days to other European countries.

USA Warehouse:

Generally, 3-7 days to a USA address.

ES Warehouse:

Generally, 2-5 days to the Spain, 3-7 days to the Portugal.
Shipping from warehouse nearest to shipping address is faster. Additional charges may apply.

Note:

The above shipping time are calculated by using calendar days. This is a general guide and delays maybe caused force majeure, natural disasters, inclement weather, war, public holidays, and factors outside our control.
What is the shipping cost?
The price depends on the weight of product, the origin, the destination, the shipping method and warehouses, and other considerations. Detailed pricing information is visible when placing an order.
Choose the correct destination and warehouse, then select the shipping method, to obtain an accurate shipping cost.
About customs tax
Taxes may apply for imported goods/services and is regulated by the country law. neje.shop is not responsible for any tax invoice charged on its products. Shipping rates are estimates and may depend on different policies and tax rates applied per country. Please contact local customs for clarity and information.
FAQS ABOUT COVID-19
As COVID-19 continues to affect our day-to-day life, online retailers have an increasingly important role to play. We're acutely aware of our responsibilities and we're doing everything we can to ensure you get the items.
At NEJE.SHOP, we hope you remain safe and healthy during this outbreak. It is our duty to offer a satisfying shopping experience for all of our valued customers as always. Light is at the end of the tunnel, so let's stay strong and patient during these special times. NEJE team will be still here to do our best to support you.
The following are FAQs for order and delivery that customers care about during the coronavirus epidemic.
Q1. WILL MY PACKAGE BE DELIVERED?
Of course will, NEJE's activities are currently continuing. However, delivery times may be longer than usual and our selection of items available for international shipping may be temporarily reduced.
Q2. HOW LONG DOES IT TAKE TO SHIP MY PACKAGE?
The delivery time of the goods is determined by the product and the delivery area. Due to the impact of the epidemic, the overall shipping time has been delayed to varying degrees than before. You can find updated delivery times on the product detail page for each item. We will do our best to deliver your items as soon as possible and notify you by email. Our local warehouses stock goods are delivered faster.

We will provide each customer with the best service and reliable products, but sometimes there are unexpected or doubtful places. We believe that good communication can solve every problem happily, so please give up the order or leave a negative Contact us before giving feedback to resolve any issues.
please contact: service@neje.shop
Online Email service time:

US time: 6:00(PM)- 3:30 (3:30 AM)         UTC/GMT -5:00  
Hong Kong time :  9:00(AM)-18:30(PM)     UTC/GMT +8:00
Europe time: 3:00 (3:00 AM)- 12:30 (12:30 PM)  UTC/GMT +2:00
Closed on Saturday and Sunday!
---
We Also Recommend