NEJE Master 2 plus 255 x 440 mm professional laser engraving machine, laser cutter - lightburn - bluetooth - app control
Features:
1. Larger area, 255 x 440 mm engraving and cutting area
2. Professional, support the latest grbl 1.1f firmware, support laserGRBL, benbox and lightburn software.
3. The easiest and most portable engraving experience: Support NEJE series software, including NEJE android APP, NEJE windows software, NEJE mac software, NEJE wireless APP for iOS, ipadOS, macOS. NEJE Scanner APP.
4. Safety design, the laser module comes with a protective panel design to block more than 90% of the leaking light; built-in MEMS Roll protection.
5. Quiet use, intelligent drive, can automatically adjust the fan speed according to the laser temperature.
6. Two ways to adjust the focus, you can directly adjust the focus, or you can adjust the focus to a fixed position, adjust the focus with a fixed thickness board, which can take into account the use of engraving and cutting at the same time.
7. The product has passed the quality control of NEJE factory and has a free 2-year warranty!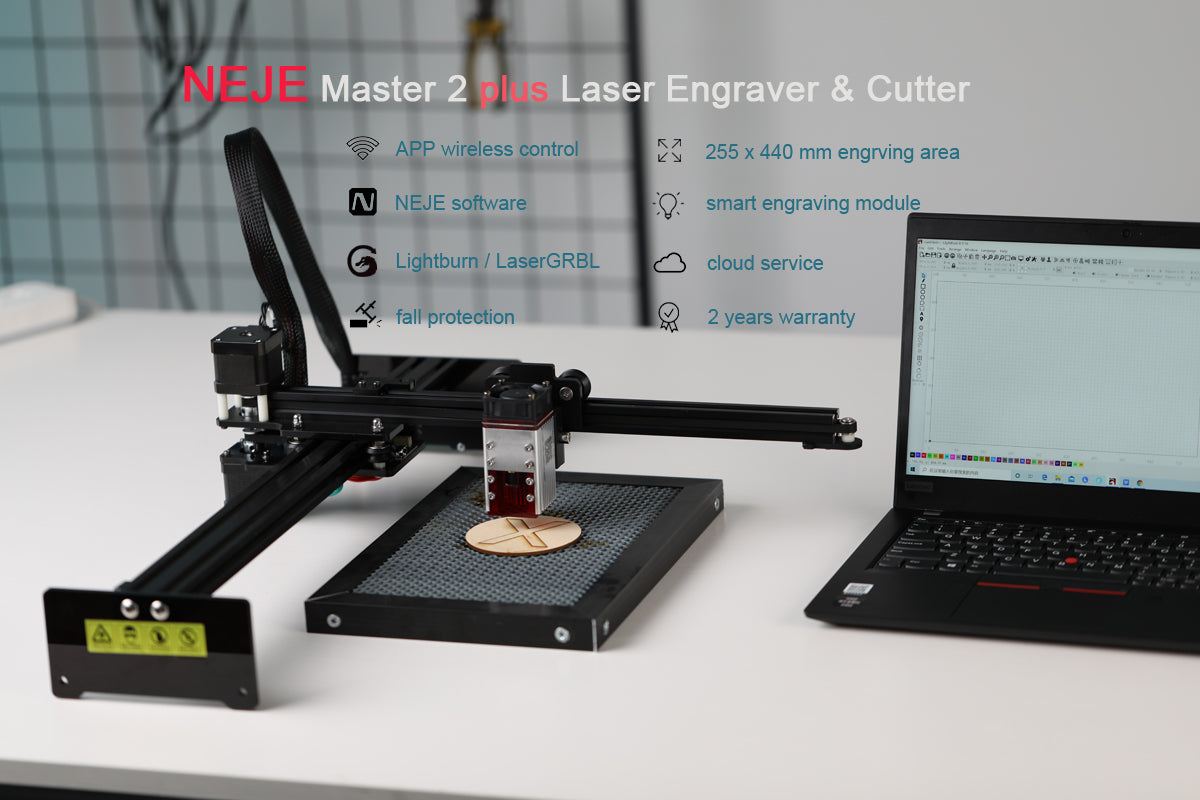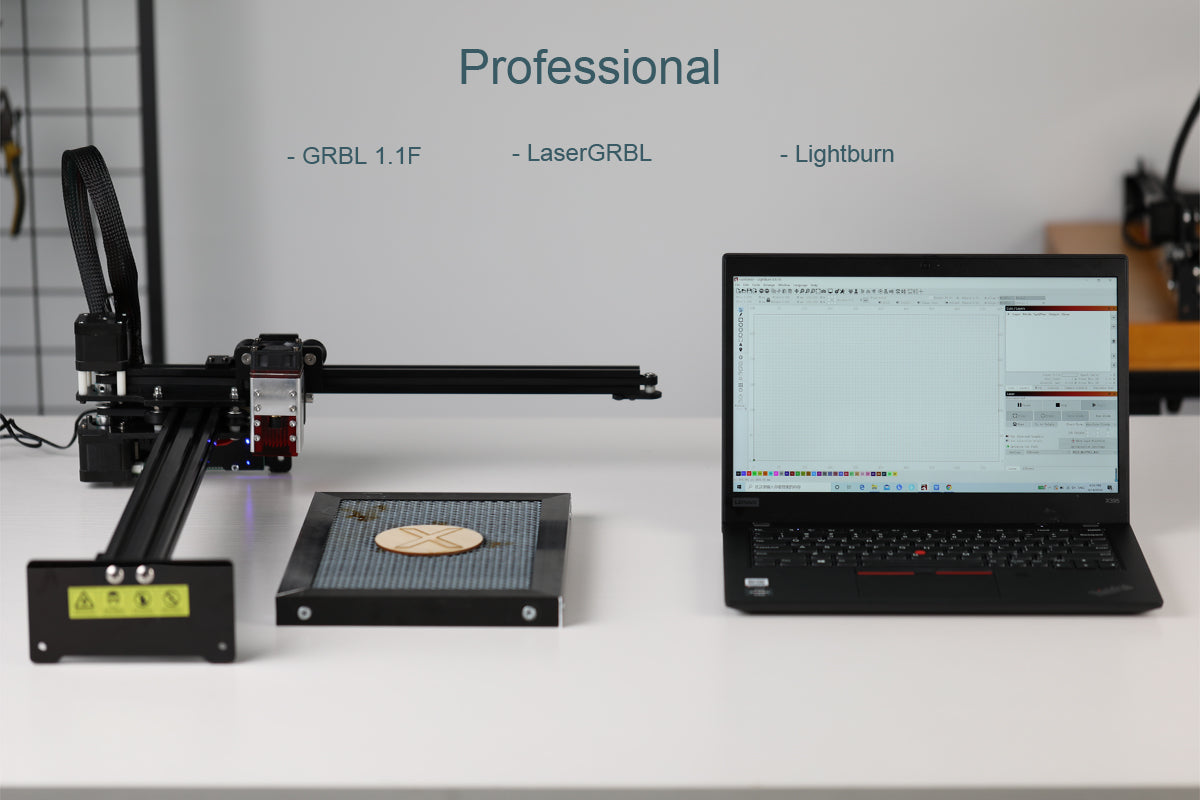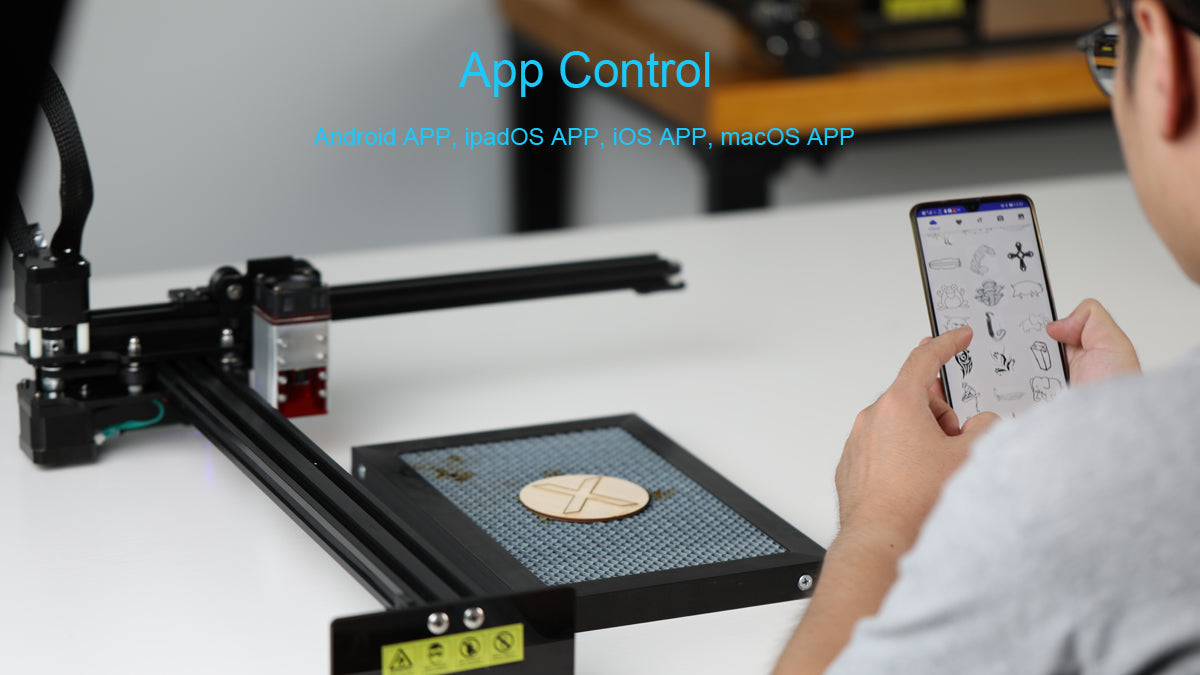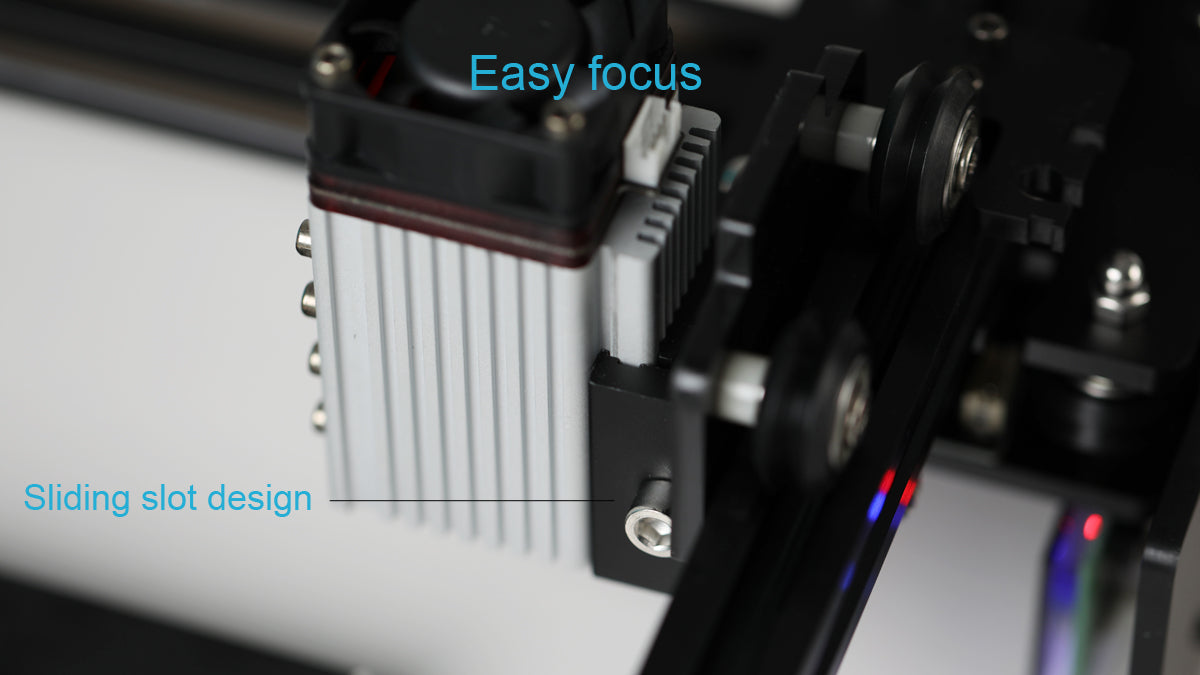 Packing List:
Laser engraving machine 1,
Module 1,
12V3A power supply 1,
European standard adapter 1,
Manual 1,
Red glasses 1,
(Data cable 1, wooden board 1, paper 5, pen 1, brush 1, focusing film 1, angle iron 4, alumina film 1, cable tie 3, nut 5, large hexagon wrench 1, small hexagon wrench 1, Open wrench 1)

1.Lasers are sensitive electronic components that may be damaged by interference from external factors, although all NEJE lasers are produced with electrostatic surge protection and aging resistance.
2.Laser head provides 1 year warranty (after receiving the product).
3.Motherboard warranty for 2 year.
4. Machinery including motor assembly, 2 year warranty.
5.According to the video basis you provide, global free-shipping for after-sales!

1. We ship to the address filled in your order. Please make sure your address is correct before payment.
2. The delivery time is affected by your destination, logistics and other factors. If you have any questions about logistics, please contact us.
3. In order to give customers a better shopping experience, we need to test the products from the warehouse before shipping, and we need to wait for the logistics company to pick up the goods after packaging. It takes about 3-5 days to process the order. If you have any questions about the order, please contact us, please do not raise any disputes, thank you for your understanding.
Note : The DDU trade terms stipulate that the package value exceeds 22 euros (the value of a single package in the UK exceeds 15 pounds) will incur customs duties, Pay when the recipient picks up the package,which should be borne by the buyer, thank you for your understanding.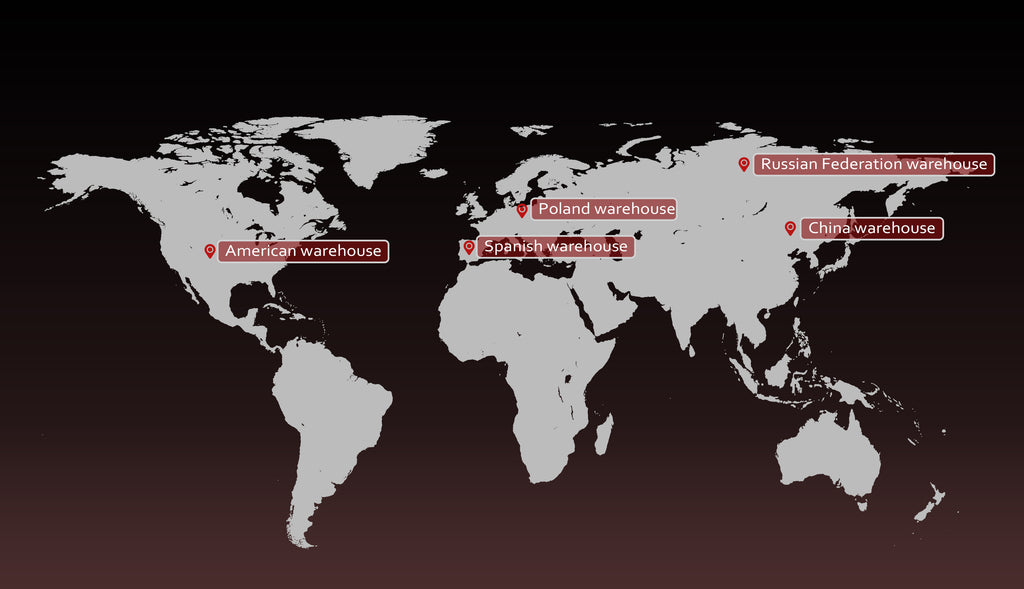 POLAND
Countries where this warehouse can ship : Czech Republic, Slovakia, Slovenia, Hungary, Croatia, Netherlands, Austria, Poland, Belgium, Estonia, Ireland, Lithuania, Denmark, France, Italy, Sweden, United Kingdom, Spain, Finland, Romania, Luxembourg, Greece , Monaco, Bulgaria, Latvia, Malta, Portugal, Cyprus, Germany
UNITED STATES
Countries where this warehouse can ship : United States
SPAIN
Countries where this warehouse can ship : Spain, Portugal, Germany, France, United Kingdom, Belgium, Italy, Netherlands
RUSSIA
Countries where this warehouse can ship :  Russian Federation
CHINA
Countries where this warehouse can ship: Brazil, Colombia, Pakistan, Saudi Arabia, Indonesia, Ireland, Denmark, Finland, Portugal, Switzerland, Greece, Italy, Bulgaria, Norway, Hungary, Czech Republic, Estonia, Belarus, Latvia, Lithuania, New Zealand , Kazakhstan, Romania, Slovenia, United Arab Emirates, Albania, Georgia, Nigeria, Germany, Ukraine, Israel, Turkey, Mexico, United States, Spain, France, Russia, Poland, Singapore, Japan, South Korea, Malaysia, Thailand, Canada, Australia, Netherlands, Austria, Sweden, Belgium, United Kingdom

We will provide each customer with the best service and reliable products, but sometimes there are unexpected or doubtful places. We believe that good communication can solve every problem happily, so please give up the order or leave a negative Contact us before giving feedback to resolve any issues.
please contact:
jun@nejetool.com

We are always welcome wholesale and drop shipping 
1. Remove our logo and ad from parcel
2. Remove receipt
3. Support CSV/EXCEL srrvice
We can provide you with satisfactory logistics service, Please don't worry the stock , We Have our own factory, one day,We have professional teams. and we have great interest in developing business with you, should you have any inquiries or comments,we would be glad to talk in details. 
Business cooperation email: jun@nejetool.com
---
We Also Recommend