NEJE 3 Plus A40630: High Precision Diode Laser Laser Engraver and Cutter
ABOUT SHIPMENT
Germany Warehouse Ship To: Germany, France, Italy, Spain, Czech Republic, Slovakia, Slovenia, Hungary, Croatia, Netherlands, Austria, Poland, Belgium, Estonia, Lithuania, Denmark, Sweden, Finland, Romania, Luxembourg, Greece, Monaco, Bulgaria, Latvia, Malta, Portugal, Cyprus, Turkey, Ireland.
China Warehouse Ship To: Canada, Australia, New Zealand, America,Singapore, Malaysia, Korea, Japan, Thailand, Philippines, Vietnam, Indonesia, United Kingdom, Mexico, Israel, Turkey, Serbia, Brazil, Saudi Arabia, Chile, Ukraine, Kazakhstan, Belarus, Colombia, United Arab Emirates, Pakistan, Lebanon, Sri Lanka.
US warehouses and UK warehouses can only ship to locally.
---
COUPON
---
FEATURE
【Open operating platform】Just fit on a desktop with a width of 600mm, and the left side of the machine is not limited by the size of the material. It is suitable for processing large area materials. Under the protection of the MEMS vibration protection sensor, the engraving and cutting processes can be completed at the same time. The X-axis motion module is only 120g and is driven by a 40mm thick high-performance stepper motor, bringing a faster engraving experience than the gantry structure, 3400 x 5600 pixels, engraving accuracy: 0.075 mm dot pitch, 338 dots/inch. The whole machine function test requires only 4 screws to complete the installation.
【High-hard material grayscale engraving module】The NEJE A40640 module has 7.5W pulse power and 0.04x0.04mm focus, 5.5W continuous output power, This module uses NEJE's unique fiber compression technology to make the light spot 0.04x0.04mm. Like NEJE N30610 (2.5w 0.02x0.02mm), it has the best grayscale engraving capabilities.
【More clearer, Safer】
 A40630's Simple and practical optical design, safety drive design, everything is for more powerful \ clear Engraving and safe use. The motherboard has built-in MEMS protection. When the device is working, the MEMS gyroscope will automatically record the device status to prevent accidental touch. The built-in light baffle can block 90% of the light, usually without wearing glasses, the N40630 module provides a very safe, easy-to-use and comprehensive entry-level product for engraving and cutting for engraving enthusiasts.
【Portable professional control software】32-bit control system, the fastest speed can reach 200,000mm/min, supports LaserGRBL, Lightburn, NEJE software, NEJE APP (Android, iOS, ipadOS, macOS), you can change it by taking photos with your mobile phone or selecting images from the album To complete the work quickly, NEJE provides free software upgrade services.
【Perfect after-sales service]】10 years of technical precipitation makes the NEJE team confident to provide a 2-year free after-sales commitment. NEJE is also the only laser engraving company that has direct factory after-sales and establishes a complete after-sales process.
---
PRODUCT DETAILS
Hundreds of materials can be applied
The above are real works from NEJE fans. If you have any materials that you do not understand, you can contact our customer service.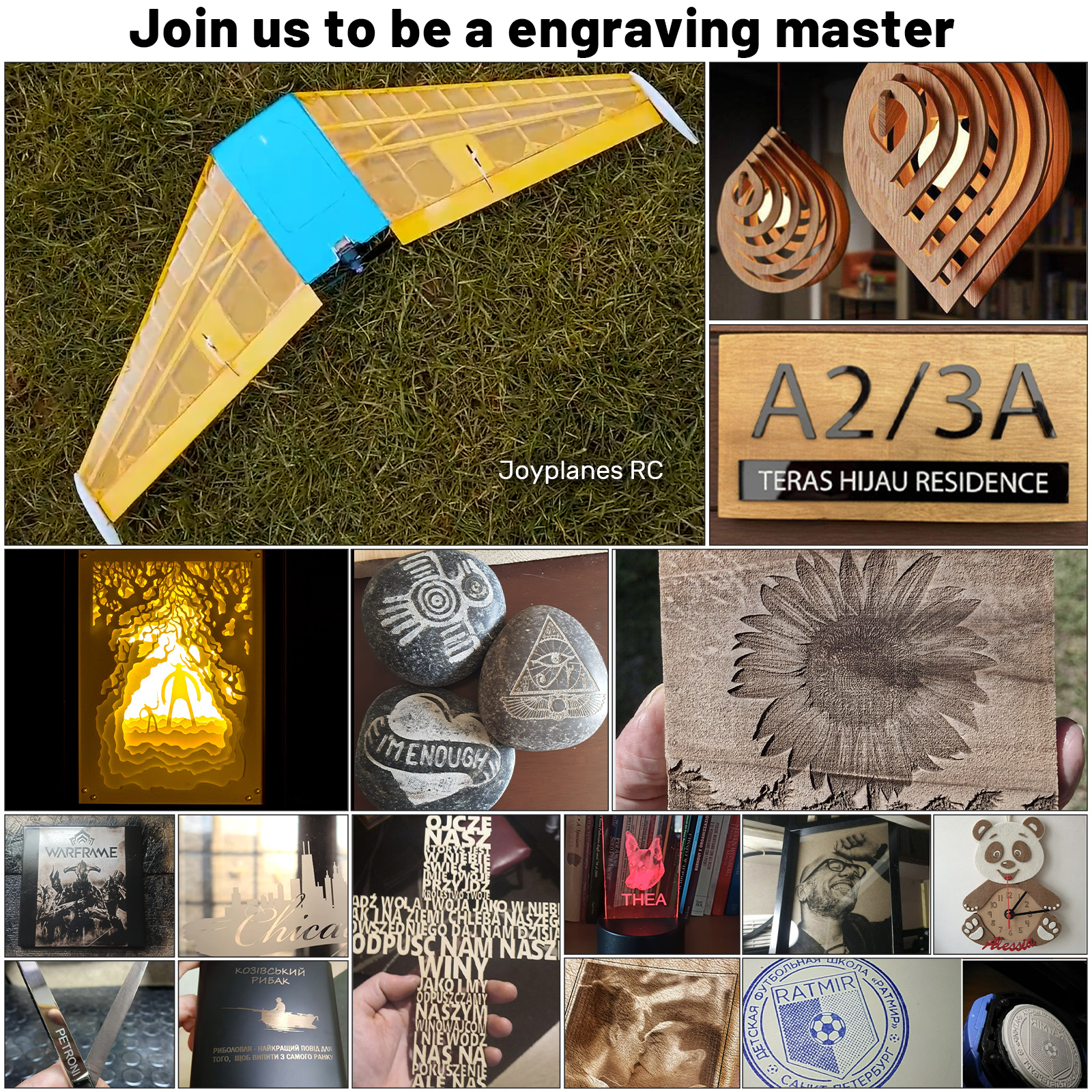 10 years of laser technical precipitation
NEJE was established in 2013 and has accumulated millions of members, schools, small businesses, and personal DIY enthusiasts use NEJE equipment to create more possibilities every day.

Weak light and auto air assist in lightburn
NEJE optimizes GRBL firmware make the diode laser to have weak light in lightburn (GRBL mode) and adds automatic air assist and automatic smoke extraction system functions, eliminating tedious manual control.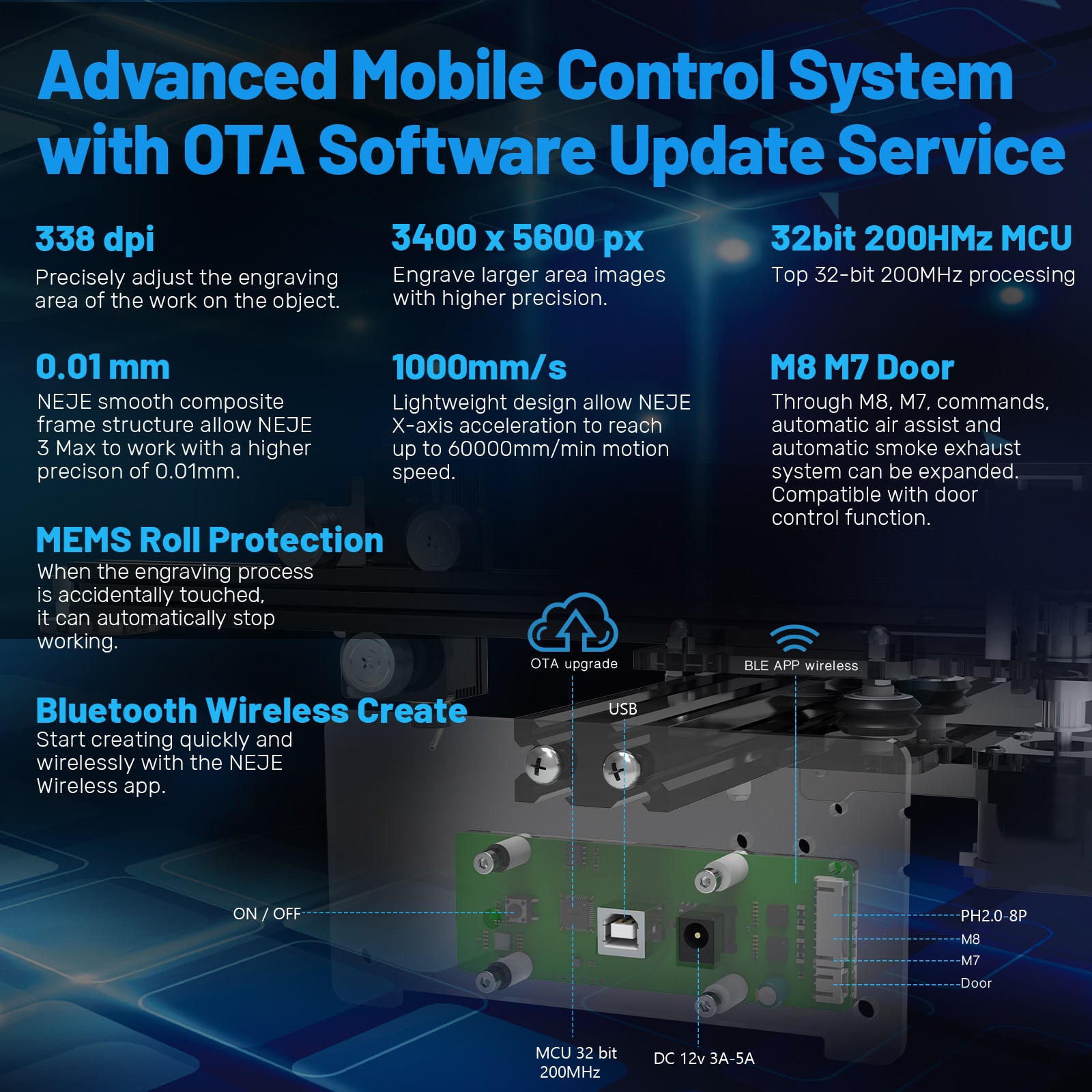 Advanced mobile control system with OTA upgrade
Advanced 32-bit+BLE+MEMS new mobile control system, OTA software upgrade more functions and services.
NEJE optimizes the low-light experience in GRBL mode for diode lasers, and the low-light settings can be adjusted through the laserGRBL software.
Support repeated engraving, the position information will not be lost.
BLE-based wireless control, supports NEJE APP wireless control.
Built-in sensor protection, currently in NEJE mode, when the machine angle changes, the device will automatically stop working.
Wireless APP offline control
Wireless control function, turn on the phone, and complete a beautiful project in a few simple steps. The use efficiency is faster, and it does not take up the work computer.
The new NEJE V6.1.2 software supports area expansion, you can simply modify the length of the track to achieve area expansion, NEJE also provides the option of extended track.
The NEJE 3 control system has completed a very large upgrade, supporting OTA firmware and software upgrade services, NEJE has improved in the new GRBL firmware to adjust the low-light display under lighrburn and laserGRBL software and automatically control the air-assisted smoke extraction system. You can safely and stably upgrade to the latest GRBL firmware through NEJE software, When using the device for the first time, please open the NEJE software to update to the latest firmware.

About NEJE quality control and service!
Founded in 2013, NEJE is the inventor and innovation leader of diode laser engraving machines. After 9 years of continuous research and iteration, NEJE's laboratory and factory have become experts in the field of diode laser engraving machines. The diode engraving machine brand is the only manufacturer with its own optical laboratory, manufacturing plant, global warehousing service and complete after-sales process. Every progress of NEJE follows the user value first. Every mechanical equipment, control panel and module needs to go through the strict R&D process and factory quality control system of the NEJE laboratory, and all the automatic quality control that the NEJE factory has achieved ensures that every user can get reliable products and service commitments. NEJE never assembles spare parts to ensure that each equipment All have undergone complete testing, NEJE has served 1 million consumers in the past 9 years, better products and services are the key to success.
EXPANSION DESCRIPTION

M7 relay expansion accessories, can be used to control AC or DC power supply smoke exhaust system, can also be used to control other circuits, used as M8, there are safety risks when operating high-voltage circuits, requiring professional operation; M8 valve expansion accessories, can be used To control the air compressor switch. Relay module, air valve module, door module need to be purchased separately, not included in the product list.
---
ABOUT AIR ASSIST
When do you need air assist?
Air-assisted engraving or cutting can only be used for engraving or cutting that produces more carbonized substances. Generally, the depth of engraving is less than 1mm, and the cutting of plywood less than 2mm does not require air assist. A small fan can be used to blow off the smoke generated by the engraving. Air assist is not recommended when engraving images, and adding air assist at this time will destroy image details.

What kind of air pump is suitable for cutting?
The main meaning of air assist is to blow off the carbonized material produced by cutting, and the general oxygener and electromagnetic inflator have almost no meaning. only the pressure of the oil pump and air compressor (0.4-1.5mPa) has the effect of blowing away the carbonized material. but it should be noted that the air of the oil pump contains oil and cannot be directly used for the air-assisted module of the closed cavity, otherwise the oil will contaminate the lens, resulting in power drop or damage to the lens. The air pressure of the air compressor can be used for a short time with the closed cavity, but When used for a long time, the water-containing gas will contaminate the lens, cause the power to drop, and even damage the lens.

---
PRODUCT GUIDES AND DOCUMENTS
View Manual: https://neje.wiki
---
RELATED POSTS

More DIYers are using it every day! 
---
SPECIFICATION
Packing List

Laser engraving machine x1
A40630 Laser Module x1
12V4A power supply x1
Manual x1
Goggles x1
(Data cable 1, wooden board 1, paper 5, pen 1, brush 1, focusing film 1, angle iron 4, alumina film 1, cable tie 3, nut 5, large hexagon wrench 1, small hexagon wrench 1, Open wrench 1)
---
WARRANTY TERMS
1. Lasers are sensitive electronic components that may be damaged by interference from external factors, although all NEJE lasers are produced with electrostatic surge protection and aging resistance.
2. Laser head provides a 2-year warranty (after receiving the product).
3. Motherboard warranty for 2 years.
4. Machinery including motor assembly, 2-year warranty.
5. According to the video basis you provide, global free shipping for after-sales!
---
SHIPMENT & TAX DETAILS
1. We ship to the address filled in your order. Please make sure your address is correct before payment.
We do not assume the risk of loss or damage to the package arising from the rejection.

2. The delivery time is affected by your destination, logistics, and other factors. If you have any questions about logistics, please contact us.
3. In order to give customers a better shopping experience, we need to test the products from the warehouse before shipping, and we need to wait for the logistics company to pick up the goods after packaging. It takes about 3-5 days to process the order. If you have any questions about the order, please contact us immediately at
service@neje.shop
, please do not raise any disputes, thank you for your understanding.
4.After shipping, you will receive a shipping email with the tracking number. Normally you can track your package at:
https://www.17track.net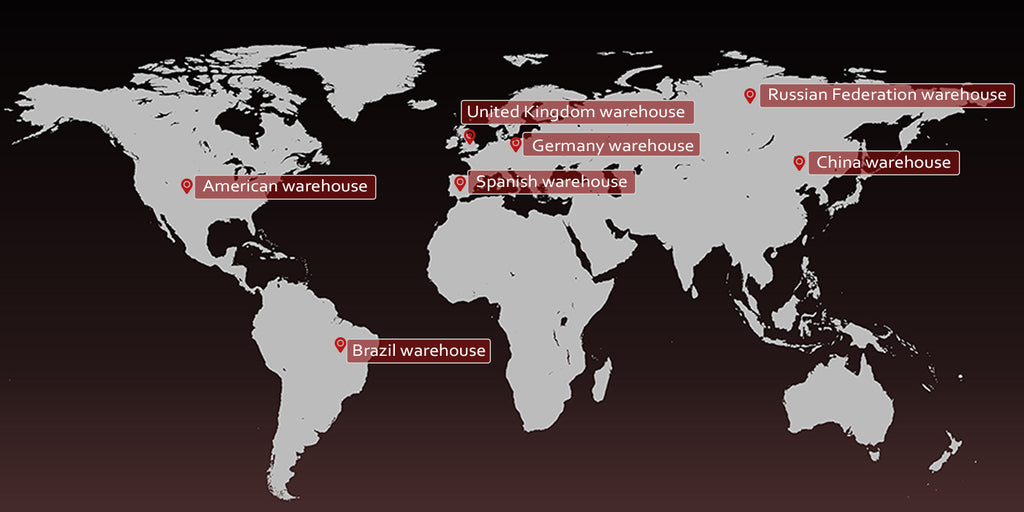 Note: From July 1, 2021, the EU will amend the relevant tax laws for products sold to EU member states. For products with a value of fewer than 150 Euros sent from China to EU countries, we will use IOSS for customs clearance. There is no need to pay taxes and fees during delivery, and customs clearance and delivery are faster. Orders sent from China to EU countries are worth more than 150 euros and are subject to import value-added tax and customs duties. This requires buyers to use their own VAT to clear customs and pay import VAT and customs duties. Shipments from EU countries are not subject to import VAT. This tax issue only applies to shipments from China to EU countries. For tax inquiries in other countries, please contact email: service@neje.shop

---
CONTACT US
We will provide each customer with the best service and reliable products, but sometimes there are unexpected or doubtful places. We believe that good communication can solve every problem happily, so please give up the order or leave a negative Contact us before giving feedback to resolve any issues.
please contact:
service@neje.shop
Online Email service time:
US time :
6:00(PM)- 3:30 (3:30 AM)  UTC/GMT -5:00  
Hong Kong time :
9:00(AM)-18:30(PM)  UTC/GMT +8:00
Europe time:
3:00 (3:00 AM)- 12:30 (12:30 PM)  UTC/GMT +2:00
Closed on Saturday and Sunday!
---
We Also Recommend